The best goat milk soaps are made from fresh, not powdered goats milk. Our handmade soaps and lotions are made with fresh goats milk from our ADGA Nubian Goats here at Singing Hills Goats located in Corbin, KY.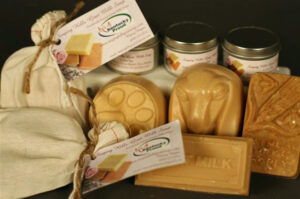 All milk contains natural emollients, vitamins and triglycerides that moisturize the skin. Goat milk specifically contains the reputed highly effective moisturizer capric-capryllic triglyceride.  People who prefer goat milk soap claim that it is far less drying and harsh than ordinary soap. For those who have sensitive skin or eczema, goat milk soap is a godsend. Goat's Milk Soap has a PH level similar to our skin, which helps protect the skin from invading bacteria and chemicals we come in contact with every day.  We age our soaps to make them milder and longer lasting. To properly care for your bars of Singing Hills Goat's Milk Soap, keep them in a soap dish that drains water away preventing them from sitting in a pool of water. Our soaps have NO DYES and chemicals! We keep the products as natural as possible.
Why not send your family and friends an order of Singing Hills Goats Soap shipped directly from our farm? They will be pleasantly surprised with the gift!
Our products are available on our website and are also available in many stores located around the state of Kentucky.  Use the Product Locator to find the store closest to you which sells our products.
Thank you for your interest in our Goats Milk Soap.  Please visit us again.
Showing all 3 results